Managing the 'Airport' Process
Airports can be very stressful with a young family due to the amount of waiting, queues, confined spaces and range of activities that must be endured.  This section will provide helpful ideas regarding checking-in, security, immigration, customs, toilets & nappies, boarding and more.  Some airports have excellent facilities, while others can be poor.  We will also discuss International Airports verses Domestic Airports.
Arriving at the Airport: Be Early – no – Very Early (if possible)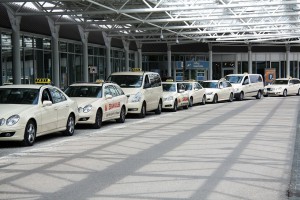 Time is your friend or enemy at the airport.  It can be pretty easy when traveling on business or on your romantic get-away to arrive with your pre-printed boarding passes, drop a bag and waltz through immigration, security and onto your gate – and all done in 60-90 minutes.
Traveling with young kids is a completely different proposition and more time = less stress and more likelihood of a good experience.
Just to press the point a little – the following occurrences may just be some of the things to interrupt your timing in your airport experience:
The walk from the taxi to the check-in takes 2-3 times longer as your precious little one insists on pulling their nice Mickey Mouse carry-on-bag.  Further, the 2 trollies you require becomes a lot harder to manoeuvre as you also carry your baby and 2 year old!
Check-in takes 20 – 30 minutes as they weigh all your luggage, including taking care of items such as buggies and car-seats.  And then there is the inevitable requirement to shuffle around seats as you couldn't actually book the bassinet seat you wanted online (or the reverse) or you found your seats separated and so you negotiate how to get you all together.
Security takes 15 minutes as you unpack (and re-pack) laptops, ipads, dvd players, electronic games and discuss the baby food & milk you have with you.
Immigration tales longer for 4 or more than for 1-2 adults
Then there is the long walk to the plane at a much slower pace – plus stopping to look at things etc
And – of course the nappy and toilet stops
Trust this has convinced you to not cut it short.  We aimed to be there 3 – 3 1/2 hours before departure when we had 3 or 4 young ones.
The most important aspect was to give the best opportunity to sort out any ticket, seating, baggage issues at check-in.
Plenty of time meant we almost always got things resolved in our favour.  Also – you were first at the check-in and so it was easier for them to make changes than if you are later in the check-in process.
For Domestic Travel, depending on your luggage 1 1/2 – 2 hours is needed.  There is still check-in, security, walking to Gates, nappies & toilet etc.
Check-In Procedures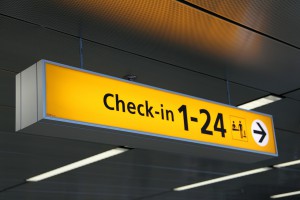 The check-in process is relatively standard and like everything else goes better if you are well prepared.  Here are a few helpful tips:
Have some simple activities available for your children

if you have to wait in a long queue.

Ensure you have your ID and Paperwork accessible.

  We recommend traveling with a good travel wallet so everything is in one place.
Make sure you have pre-weighed and calculated your luggage and know your entitlement for the airline you are checking in for.  It is important to know their policies for buggies / strollers, car seats and portable cots.  Many times I have had to use my knowledge to reassure concerned staff that I am actually within the baggage limits – they are not used to people turning up with 206kg of checked luggage plus a double stroller 🙂 – and not being over their limit!  Most check-in counter personnel are contracted and do not belong to the airline – they often do not know the fine detail.  If you do – you can maximise your situation.

Pre-name all your bags to save time.

Take a photo on your phone of your luggage so it is easy to show baggage handlers if you happen to lose your luggage while on your journey.

Use the queue time to fill in any immigration departure cards

to save time later.  Filling in for the family can take 10 – 15 minutes easily – your 2 year old can't do it for themselves :).  Even better, get some prior to traveling and fill in before you leave for the airport.

Discuss your seat allocation with the staff

prior to accepting your boarding passes to ensure you have what you require.  Check your boarding passes once they are received to ensure they actually got them right as they can generally still be changed at this point.
Try and check luggage to yor final destination if transiting other airports.  You do not want to have to collect your gear and re-check-in if it can be avoided.

Ask staff at check-in for any clarifications

you require about your trip
Remember also –

your cute child can also be an advantage at check-in

sometimes or even a crying baby can get some sympathy – so there can be some advantages.
Farewell to Family and Friends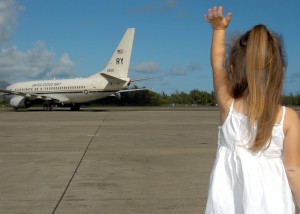 This is a very important time, particularly if you are separating for a long-time from loved ones.  There can be a lot of emotion, adults and children not wanting to leave and tears.  We have certainly experienced on a number of occasions one or more of our children crying right through immigration.  Of course, you may also be battling your own emotions and so it can be a difficult time.  Some suggested strategies are:
Think beforehand about how you might react with the emotion and actions of yourself and children at this time.

Have something special with you

– either given by someone you are saying goodbye to or in your carry-bag to give them  as soon as possible after saying goodbye can change their thinking and focus.  This has often worked for us – a sticker pad, a little toy, some edible treat or similar.

Talk to them

about the pending flight, adventure or just planes or their favourite thing to get them thinking about other things
Allow enough to process the grief.  If you arrived early enough, you are not under time stress!

DO NOT

allow your family and friends to dictate your departure time and process.  They are not the ones traveling with the young family!  You will have the stress, not them.
Immigration
This is normally fairly straight forward and just requires following instructions and some patience.  A few quick tips:
Ensure all your paperwork is filled in
Check if there are special queues for children with families
Process your departure together as a family – this reduces uncertainty and also enables one parent  to concentrate on the children and one to concentrate on the immigration process
Security
You are probably aware of many aspects regarding Airport Security.  We will just add a few thoughts:
Every airport can be a little different as to their processes and what they allow / disallow.  This can make things difficult at times.  It is important to be alert to their specific requirements – eg. do you need to remove your laptop or not?
Be aware that with children, it can take you a lot longer as you may have many more bags to unpack / process

Know where key electronics are

Have all your baby items in plastic bags ready for inspection.

  You are allowed to carry on baby food, milk etc but be prepared they may question you on this.  We have had to eat / drink baby products to show they are actually real.

Make sure all your liquids are under 100 mls, except for baby products.

  Empty drink bottles so you don't lose them!
Educate your children on what is about to happen so they are prepared as it can be quite scary and overwhelming the first time
Airline Lounges – Frequent Flyer programmes
Airline Lounges can make a welcome relief for long travel if you are fortunate enough to qualify.  This is especially the case in transit.
Consider building as many frequent flyer points as possible with one airline if you do a lot of travel.
Some airlines enable you to purchase membership or pay to use a lounge facility – this may be worth a consideration if you are doing significant long-haul flights with stop-overs.
Go To Gate and Boarding the Aircraft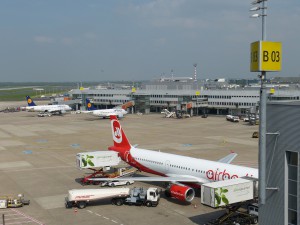 Great – you're over much of the process and now you're almost on your way.  A few more ideas:
Give yourself time to get to the Gate.

  The trek to the Gate will require nappy changes, toilet stops, water bottle refills and perhaps a little food & drink.
Many airlines allow families with young children to board the aircraft early – take this opportunity.  Why?

It provides time to get your seating space sorted with the necessary books, toys and other activities.
It gives you first access to the storage lockers for your bags – very important as you will be accessing them a lot more than most other passengers, often needing things quickly!
You get more time to meet the cabin crew and become familiar with them and perhaps put in some requests etc prior to other passengers coming on board.  They are not so busy at this time.
You miss the queues boarding the plane and don't stand for a long time in the gangway and aisles.

Have your boarding passes ready