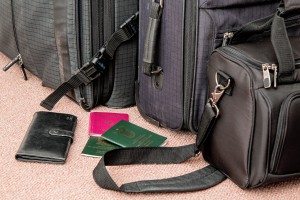 One of the most stressful aspects of travelling with young children is the whole process of packing your gear.  Knowing what to pack when travelling with kids is the first part of the process, then comes the sourcing of what you need followed by the packing.  We had many a time where we were packing into the small hours of the morning after putting the children to bed.
Here are a few key considerations:
Check your key documents such as passports, tickets, vouchers and vaccination certificates well in advance of your travel and place in a safe place so all you need to do is place in in your hand luggage when you pack.  You do not want to discover your passport is missing or similar the night before you travel!

Create some task lists:

What to pack – ensure very important items such as a child's special teddy bear etc are included on your list
Items to purchase – include items from chupps chubs for ears through to nappies
Packing Jobs to do (such as wrapping a stroller or similar)

Know your baggage allowances

so you can pack accordingly.

Pack what you can as early as possible

so you minimise what you need to do at the last minute.  One of the challenges with packing with children is there are a number of items that really need to be packed at the last minute.
Be aware of security limitations and rules, especially regarding liquids and sharp objects. Ensure you have sealed plastic bags for your liquids to be placed in.

Check your power voltage and adapter requirements.

 We used to travel with international adapters and then a 4 plug power board so we were never short of power plugs to charge our phones, computers etc.
Ensure you have enough supplies for your journey – it may be a day or two before you can restock on nappies, baby formula or other essential items.  You may also not be able to wash any clothes for some days – this can be challenging if your baby or child gets sick while travelling, so plenty of changes are necessary but balanced against your available space.  We would plan what we would normally require and then add some extra.
Pack sufficient variety of food, clothing and activities for your journey.  Consider packing a range of items in these categories so you can continue to bring change to your child during a long journey.  A toddler may shift from duplo, to colouring, to reading a book all in 20 minutes – and then repeat the process!  Likewise, the food on the plane may not be enjoyable for your child but they still need to eat – its a good idea to have a range of snacks they enjoy.
Make use of your packing list – it becomes a lifesaver.  There is so much to remember when you are packing for travelling with your children and it is so much easier if you can simply follow your list!
Click here to access our packing checklists