Older children are very happy passing hours watching various programmes or playing games on the small screen on the back of the seat in front of them :). However, what do I do when flying with a baby or toddler?  A 6 or 18 month old or even 2-3 year old will just not sit still and watch a programme for very long?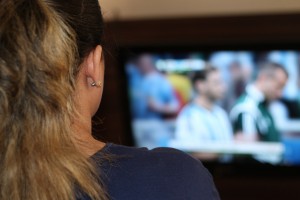 What should I do?  – read on…
Flying with young kids is all about preparation and attitude.
In this article, you will enjoy ideas and guidance about how to handle flights with children 3 years old and under.  We have found that once the child is about 3-4 years old, they will be happily entertained by Dora, Mickey or Lightening McQueen for long periods!
Attitude
The attitude with which you approach your travel will have a significant bearing on how successful your experience will be.  Be confident!
Some key thoughts are:
This is an opportunity for uninterrupted, focused time with your child / children – make the most of it.
Think of it as an adventure for you and them – let them play their part in making the adventure amazing.
Relax your normal expectations and standards – remember you have another 364 days of the year to work on their balanced diet (etc).
Be prepared to be tired and challenged – hours in a confined space will require a lot of extra energy and effort.  Often you are also tired from packing and getting everything organised.
Movies and reading your favourite book are probably not on your schedule for this trip.  If you catch a little of this while your child / children are sleeping, treat it as a bonus.
Making use of what is already on the plane
Planes already contain many activities that young ones can make use of – here are a few to consider:
Children's activity packs:  Many airlines provide activity packs / toys for children.  They can be useful for a few minutes and the kids always enjoy opening them and seeing what is inside.
Beware of course of plastic bags they come in or small items that could be dangerous for small ones.
Air Crew:  Most air-hostesses and air-stewards enjoy the company of children.  A trip to the cabin crew station at the back of the plane (or where it is on your plane) can pass some valuable time and just give you a mental break while they interact with someone else for a few minutes.
Aisles: Once your child can crawl or walk they will not sit still for long periods of time.  Walking up and down aisles is a great past-time for our kids.  It can get tiring and monotonous but it stretches their legs, gets them interacting with others and lets them experience their environment.Of course safety is vital here and you need to be with them.  It is important the crew are not serving food / hot drinks and also check there is nothing on the floors that can hurt your child.
Windows: Take some time for your child to look out the window.  If you are not in a window seat, consider a trip to the back of the plane where there is normally a couple of extra windows.
Safety Card: Planes have a safety card in the seat pocket and these can keep a child entertained for some time as they look at the pictures and talk about what they are seeing.
Bathrooms:  This may seem like a very strange activity but it can be a lifesaver.  The bathrooms contain running water and mirrors!  When our kids started getting scratchy / restless, we would often take them to the bathroom for 5-10 minutes.  Here, they are away from the public gaze – you can talk with them about anything and also let them have some fun with the running water and the mirror.I know many may think this is a weird one to have on the list – but we can honestly say that this was our saviour on a number of occasions.  We could distract them with water and mirrors – then talk with them in private about any issues / behaviour – play some more and then head back to face the plane full of passengers.
Food time: Most longer journeys will have food served at some point.  This can be another activity for the kids as they explore what they have been given and devour their favourite items.  Note: this can require a lot of management by parents as there is little space, particularly if your under 2 year old does not have their own seat.
Top Items to take and Do
So if I'm flying for a few hours with my young ones, what are the "must have's" to do with my young child or children?
Of course, it is different for each child and you will know best what type of things they best respond to – but here is a list of generic items and activities that we would recommend.
Sticker books / pads:

  We always travelled with sticker books or pads as our kids always loved to just use up time creating pretty pictures with their stickers by simply peeling them from the pad and putting them on to some paper.  We normally had a book / sheets per child.They are great when taking off and landing when you and your children must have seatbelts on, so many other options are not available.

Paper and Felt-Tip Pens/Crayons:

Travel with sheets of A4 paper or exercise books.  They can be used for putting stickers on to but can provide plenty of drawing time.  We preferred felts as they are easier to get a meaningful result for young kids than pencils or crayons.  Generally we purchased a new set for each of our children – a small investment to ensure they are all working and to minimise squabbles.

Magnetic Doodle Pad:

These can be wonderful toys and often we would sit there badly drawing their favourite animal as we came into land.  Paper is generally no good during take-off and landing as you can not use the tray table – however with one doodle pad, you can draw and draw and draw.

Toy Cars / Trains / Planes:

Carry a selection of their favourite cars / trains / planes to play with on the seats.  They can get lost though so just be aware of this.

Duplo or similar:

We carried a collection of Duplo lego blocks and a few animals & people.  To make this easy, we used a base and then put a selection of various sized blocks up to 3 layers.  We then added another base on the top, providing a secure Duplo sandwich.  The advantage with this is it is easier to carry and you also know if you have found all your blocks when packing them up.

Selection of their favourite books:

Kids love to hear their favourite stories.  Take a selection of various types, sizes and styles of books and rotate them during the flight.

A favourite doll or soft toy:

Take one or two dolls or soft toys for them to play with. Perhaps include a few simple changes of outfits so it provides more variety.

Painting with Water Books:

Purchase a book where as the child paints over the picture with water, the picture automatically appears in all its colours.  This activity has minimal mess but the kids love it.

Development Toys:

Include one or more age appropriate development oriented toys whether this is putting shapes into a container or simple jigsaw puzzles etc.  You can include in here things for younger ones to chew, shake or just enjoy the colours and textures.

DVD's / IPAD:

Last but not least is the electronic distraction.  Your kids may not at a young age sit and watch a movie on the airplane screen but they may still enjoy some time playing on an ipad / tablet or watching a favourite movie on your device.  We generally used these as a last resort option – when all else was starting to lose its magic, turn to the electronics for some time as a breather.
Tip: Keep your electronics as a back-up to your other activities, not the main activity.  It gives you somewhere to go if traditional activities are starting to lose their appeal or you or your child just need a break!
 Surviving the Airport
The plane flight is the main concentration here as you are in a confined space, with a lot of strangers and nowhere to hide.  However, the airport is also an important consideration as you may have 3 hours or more to endure during check-in, processing and boarding.
Here are a few simple tips:
Try not to rush – sometimes it is unavoidable but wherever possible give plenty of time when traveling with kids.
Have a few simple, very accessible activities for the children.  You do not want to be unpacking and repacking your bags a lot during this time.
Items such as cars and even a soft small ball can be great – especially for children who love to be energetic.
Take a break for a drink and snack.
Make the most of the toilet / nappy stops etc.  They use up time and provide time away from the gaze of the public
Try to find interesting things to look at – airplanes taking-off and landing, luggage and service vehicles buzzing around the airport, interesting things to look at in the airport etc.  Explore using lifts and escalators if time allowed.
We would sometimes buy something small from one of the shops for each child.  This used up time and also gave them a small present in return for their good behaviour.  We seldom said this directly but they knew if they behaved there was a chance they may get lucky :).  Occasionally if one of our kids was starting to play up, we make a more overt promise – when traveling you do not have the luxury of sending them to their bedroom or similar.
Air Travel can be amazing with your young child or children.  However, this so much relies on your preparation and attitude. Approach it positively and with careful planning and you maximise your chances of sharing some great experiences.
I trust this post has helped and welcome any comments, questions and feedback.  Please post below and I will ensure your comment receives an answer.
I would value any further ideas you have on 'must have' ideas, activities and items for the kids while traveling.  I look forward to hearing from you.
Richard